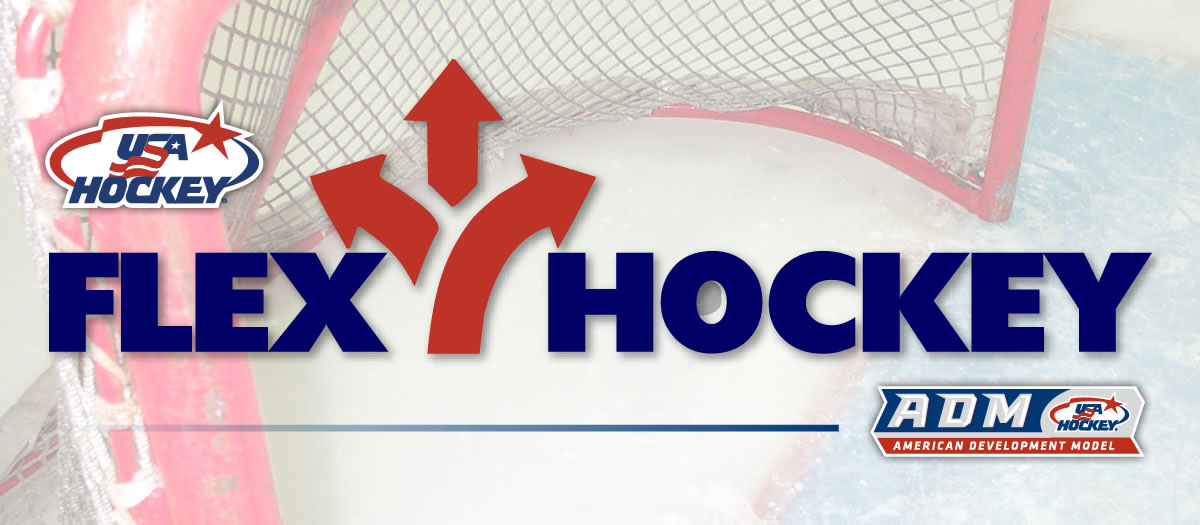 FLEX HOCKEY is an alternative hockey program for new skaters providing reduced cost, reduced time, fun, safe and skills focused participation.
In addition, you must register with USA HOCKEY. Your intitial registration is good now through August 2017 and is required for all hockey throughout the US. The registraton is FREE for ages 6 and under, and cost $50 for all others. Benefits are on USA Hockey registration page.
NO EXPERIENCE NECESSARY
FIRST STEPS PARTICIPANTS ARE WELCOME
LOOK FOR FUTURE ANNOUNCEMENTS
We hope to form Teams as the program progresses!
---
USA Hockey has introduced an ice hockey program that is less expensive, has a flexible schedule, promotes more local participation, provides and flexible rules format, and focuses on age appropriate skill development. Success is measured by skill improvement leading to a passion for the game. No longer is scoreboard results the only measure of success.
Too often today, youth sports fall into the trap of encouraging early specialization and individual labeling of players much earlier than the physical, cognitive and emotional development of players have matured. Pressure for year round participation, with a constant increased need for time and money is the new norm. Unrealistic expectations, the lack of fun, denial of the time our children deserve to be just kids, over coached, backed by parents that are forced to become "Parent Agents" as soon as their child shows an early ability, all leads to potential disappointment, and a life time distaste for sports participation. This is the opposite of what our true goal should be for our children. Over spending and devoting excessive amount of time, chasing unrealistic expectations often leads to burn out and a sense of failure by the athlete.
USA Hockey, The National Governing Body under the Olympic Charter has developed The American Development Model.
Recently, The US Olympic committee has adopted The (ADM) as the standard for all sports under the Olympic Charter. Hockey is very proud that USA Hockey has taken the leadership role in the development and implementation of the ADM. FLEX HOCKEY is the latest initiative to change the youth sports landscape and shows again that USA Hockey is leading the way to change the youth sports environment. We all recognize that parents are just trying to give their children the best sports opportunity they can. We are all subject to listening to the identified "experts" especially when they are telling us how good our children are, and that they need to be in the top programs. I suggest you to USAHOCKEY.COM and look at the ADM material and the (LTAD) Long Term Athletic Development information. Create the athlete through multiple sport participation until at least age 13 before any sports specialization. Those sports that are promoting year round participation in one sports are doing your child a disservice.
---
Cost to Join
TBA
Contact
Name: Ray Ferry
Phone: 717-278-0621
E-Mail: rayferry1@aol.com
FLEX Hockey in Lancaster, PA