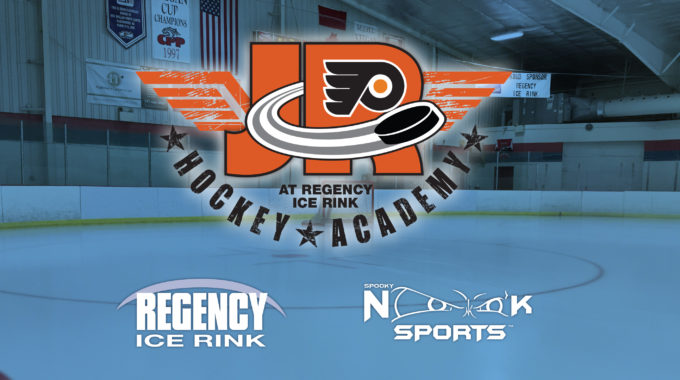 Jr Flyers Hockey Skills Academy Now Available in Central PA
Jr Flyers Hockey Skills Academy Now Available in Central PA
The Jr Flyers have teamed up with Regency Ice Rink and Spooky Nook Sports Facility to run a USA Hockey Long Term Athletic Development program. The focus of this program will be driven on supplementing a player's development outside of their current team structure. Not all players develop at the same pace, and providing an environment focused on teaching, away from competition, can allow the young athlete to grow into the player they're meant to be.
Led by a staff of JR Flyers coaches, Paul Caron, Geoff Beauparlant, and Dave Dorman, the program is designed to help build an athlete who is capable and competent no matter what sport they desire to play.
Spooky Nook offers a unique set of qualities that are unmatched locally, (highly qualified and certified trainers at every age level, professional athlete development, safe environment with a fulltime athletic nurse on duty and the largest North American training facility that is home to the US Women's Field Hockey Team).
Regency Ice Rink will provide the ice time for the delivery of necessary skills every player will need to compete at the next level.  If you can't run proficiently… you can't play soccer! The same can be said regarding ice skating, so the focus will be geared toward developing skaters who can reach the next level.
Player packages have been developed to make supplemental training affordable for every age level. The current options available are:
Elite Package $330.00 (10 hrs off ice training, 12 hrs on ice training)
Ice Package $200.00 (12 hrs on ice training)
Training Package $150.00 (10 hrs off ice training)
We are currently ironing out the On Ice and the Off Ice sschedules, and will have this information very soon.
We will be limiting the number of athletes in the program, teaching proper skills is best served in a small environment. We will expand training sessions throughout the year and open up weekly camps in the spring. Team training packages will also be offered with a minimum group of 10 athletes regardless of the club they play for. The focus is on teaching skills and making young athletes more competent.
If you would like more information or to register for this program, please contact jrfha2155@gmail.com